School and Venue Services
Installation, servicing, testing and hire.
Servicing
Is your theatre space in need of some care and attention? We can give you no-obligation advice on the condition of your equipment – both portable and installed. We can schedule and carry out inspections, testing, servicing and certification to make sure your compliance with any testing regulations is hassle-free.
Installation
We offer installation services, including supplementing your existing equipment or installing everything from new. Our experienced and qualified team will complete work to your timescale.
We have created stage lighting and sound packages designed for use in primary schools and smaller spaces such as church halls and community rooms. All systems include dimming, cabling and connectors and are designed to be easy to setup, easy to use and safe to plug in to domestic wall sockets. These lighting systems will enhance your production and give it the sense of occasion it deserves.
For larger venues please give us a call, we have hundreds of lights in stock, from basic wash and flood lighting to intelligent moving head lighting and digital control.
Note – prices shown are "dry hire", which means you come and collect the equipment from us. We can of course deliver/collect and set up the equipment for you – give us a call!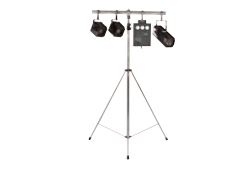 4-Light Package
2 Stands, 4 lights, dimming and Cabling £59.50 per week (exc. VAT)
Our most compact system
A simple kit, ideal for providing a lighting wash over a small stage. With two lights on each stand, this kit is quick and easy to set up and dismantle, with the basic dimmer system for control the light can be faded for dramatic effect. 
4 x 500w Fresnels, 1 Zero88 Alpha Pack Dimmer, 2 stands (1.7m to 3.6m).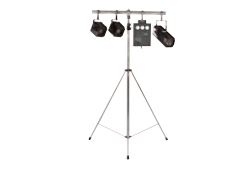 6-Light Package
2 Stands, 6 lights, local fader control and cabling £69.50 per week (exc. VAT)
Our mid-range system
The additional lanterns in this kit give you the option of focusing the beams for a hard or soft edge, great for picking out details or soloists on stage. There is also the option to use a gobo to project a still image onto walls to create a simple effect
6 x 500w Fresnels, 2 Zero88 Alpha Pack, 2 x 650w spotlights, 2 stands (1.7m – 3.6m)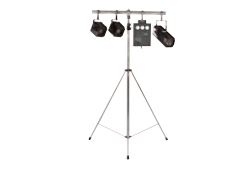 8-Light Package
4 Stands, 8 lights, 6-way lighting desk and cabling £140 per week (exc. VAT)
Large kit system
This kit offers 8 lanterns to provide a colour wash and the option of up to two gobos. The additional lanterns give the option of using more effects during a performance. Control of the lighting is via a 6-way lighting desk which can be positioned away from the stands. 
6 x 500w Fresnels, 2 Zero88 Alpha Pack, 6 way lighting desk, 2 x 650w spotlights, 4 stands.
This is a small selection of the equipment we can offer. If you have an idea and you're not sure how to achieve your vision please give us a call, we love a challenge!