Welcome to our online sales and rental catalogue, showcasing our extensive rental stock and sales counter range.
Add rental and/or sales items to your cart, give us some more details, and we'll come back to you with your quote. Don't worry; we won't ask for any payment until we confirm your order with you.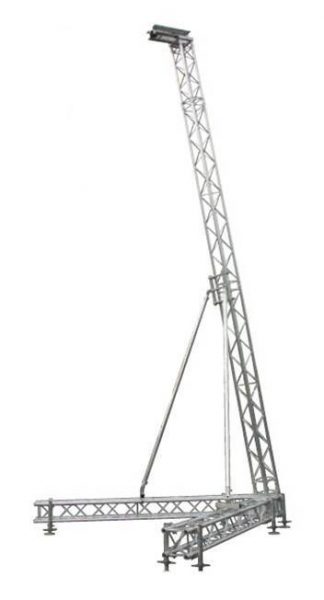 Price
£400.00

ex VAT

Click to add this item to cart.
Size:
3.83m x 3.83m x 7.9m

(LxWxH)
Item Details
The light-duty RT H30V has a loading capacity of 800 kg and a maximum lifting height of 7.60 m. It is based on H30V truss with a self-weight of 260 kg.
The legs of the V-shaped base can be levelled by screw jacks, which are attached to the side of the legs. After the base is placed, the mast can be built and erected using the hinges on the base corner. The mast should be stabilised by braces, which fix to the legs. After the system is levelled and ballast is applied, the load can be hoisted in position. Its relatively small dimensions
make it suitable for a range of applications, including outdoor events, concerts, shopping malls, halls, exhibition areas and theme parks.
This equipment can be installed by our technicians (additional costs apply) or provided as a dry hire.
Specifications
Max. overall height: 7.92m
Max. lifting height: 7.60m
Max. loading capacity: 800 kg (1760 lbs)
Ballast: 100 kg – seek advice from us if you are unsure how to safely ballast the V-Tower, or if you need advice on correct installation.
Max. windspeed: 20,7 m/s (46.3 mph)
System weight 260 kg